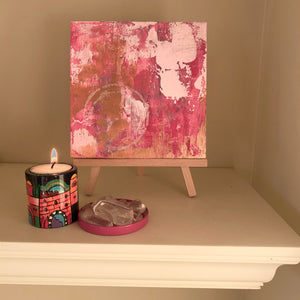 Renewal" 12 of 12, the last one, in my first Magic Mini Series. Celebrating my 333th post on Instagram and last one of 2019.
💗
Preparations for my Return and Renewal in 2020.
💗
Take the rest of this year, to Relax and Rest. Take time out to Reflect, Rejoice about the gifts and the lessons in 2019 . 💗
Magic minis are infused with a special intention (renewal) embedded with sacred symbols, adorned with healing crystals charged with full moon energy of 12:12.
✨
Unique, meaningful gifts are perfect for alters. 6x6" abstract acrylic on Canadian Sustainable Birch board.